West Covina Commercial Pressure Washing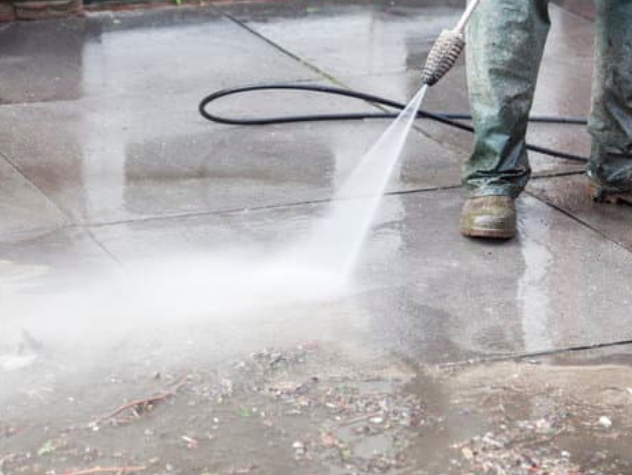 West Covina's old town is as pretty as a picture. To help keep things that way, a good power wash or pressure wash for building exteriors is a must. But who has time to do that? You've got a business to run! That's where Commercial Pressure Washing Co comes in. We're experts at exterior cleaning for all sorts of businesses, from restaurants to retail stores, and we're always happy to help out our neighbors in West Covina.
Give us a call at 310-997-4756 to learn more about West Covina pressure washing.
Power Washing Extraordinaire
Power washing using super hot water and high pressure to clean goop and grime off exterior surfaces. This includes grease, oil, graffiti, and really, any substance that won't come off with cool water alone.
Our machines crank things up to eleven with 3200psi and aggressive detergents. This is the kind of cleaning that really gets things clean, and it's perfect for all sorts of commercial applications.
We're licensed and insured, so you can rest assured that your property is in good hands. We're also happy to provide a free quote for any job, big or small.
Pressure Washing–A Cool Choice
Some surfaces, such as vinyl and glass, simply can't take the heat. We don't kick them out of the kitchen for that. Instead, we just use cool water pressure washing.
It's a kinder, gentler way to clean that's still effective against most dirt and grime. It's perfect for those who are looking for an eco-friendly option or for those with more delicate surfaces.
Soft Washing
Our soft washing service uses low pressure treatment combined with aggressive detergents that work from the inside out. It's perfect for cleaning things like:
Awnings

Siding

Gutters

Brick

Concrete

Stucco 
You'll love the results. And you'll become a part of what makes West Covina such a beautiful town.
Pressure Washing in West Covina
Keeping your property clean can be a big job – especially if it's commercial property
We'll leave your property looking better than ever, and we'll do it without damaging any delicate surfaces. It's the perfect way to keep your business looking its best.
Our Other Services
Building Washing – We can power wash any size building, from a small storefront to a large warehouse.
Roof Washing – Remove those ugly black streaks from your roof with our safe and effective roof washing service.
Graffiti Removal – We can quickly and easily remove graffiti from your property.
Parking Lot Cleaning – We'll power wash your parking lot and remove all the grease, oil, and grime.
Dumpster Pad Cleaning – Keep your dumpster area clean with our pressure washing services.
Is Pressure Washing Expensive?
Not at all. In fact, it's often cheaper than you think. And when you consider the value of your property, it's really a no-brainer.
So if you're in West Covina and you're looking for a pressure washing company that can handle any job, big or small, give us a call at 310-997-4756. We'll be happy to give you a free quote.
Thank you for considering Commercial Pressure Washing Co for all your pressure washing needs.