Los Angeles Exterior Cleaning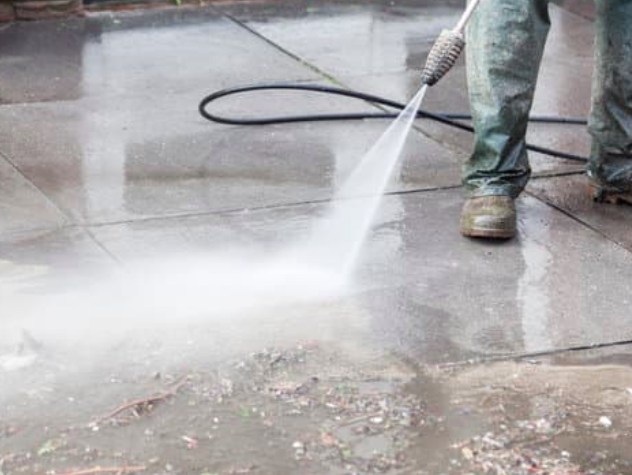 For exterior cleaning of any sized business establishment, call the pros at Commercial Pressure Washing Co. Whether it's a big tower or one of those low-level modern designs, our team can clean it with a good power wash or pressure wash.
This goes for the area around it, too. That includes sidewalks, parking lots, garages, parking ramps, and so much more. To get all the information you need–and schedule a visit from us–pick up the phone and dial 310-997-4756.
Walls
No commercial pressure washing business does power washing or pressure washing like us. No matter what material your wall is made of, we'll make it look like new. Our power washing service goes deep to clean away mold, mildew, flecks of paint, and just plain old dirt. For surfaces that don't react well to the boiling water of a power wash, we offer the pressure wash. In each case, the walls around your business will always come clean.
This includes graffiti removal. We know that some of this stuff is art. But some of it is just plain vandalism. To get unwanted graffiti off your retail walls, call Commercial Pressure Washing Co. today.
Hotel Pressure Washing
One of our team members actually overheard a conversation like this. It took place between a husband and wife in a hotel parking lot.
Husband: "Hey honey, how about we stay here for the night?"
Wife: "Eww. Look at the façade."
Husband: "The what?"
Wife: "The front of the building, dummy, the front of the building. It's so dirty. Hard pass."
Honest. This is how it went. Shortly after the couple left, the hotel manager was seen standing at one of the windows, shaking his head. Man, he should have called Commercial Pressure Washing Co.
Your hotel's pressure washing needs are great. They include the building exterior, parking areas, sidewalks–and the all-important lobby area. It has to look good or people will go somewhere else. No matter what size your hotel is–or how many rooms it has–Commercial Pressure Washing Co. can keep it looking new.
Government Pressure Washing
What is this exactly? A big purge of deep state corruption?
Not quite. We're actually talking about the power washing or pressure washing of government buildings. We've done work at the local, state, and federal levels. They all have their own standards. But we actually exceed them because we want you to be happy with our work.
For these projects, we don't dress in black. We don't wear shades. And we certainly don't wait outside in a van doing surveillance. We come, we pressure clean, we depart. Mission accomplished. Godspeed, Mr. President.
Parking Lot Pressure Washing
Would you leave your car parked in a dirty, dingy lot? Maybe if things get desperate enough. Still, when the surface of a parking lot is clean, it actually looks more inviting. That mom in the Porsche Cayenne is much more likely to shop at your store now. Indeed, anybody who drives along is going to give a clean lot a second look.
The appearance of your parking lot reflects upon the business as a whole. Call Commercial Pressure Washing Co. and turn us loose on all that dirt. We'll make sure that every nook and cranny is clean as a whistle.
Sidewalk Pressure Washing
The sidewalk is the first thing that customers see when they come to your business establishment. It should be clean. But, alas, it's not always that way. Over time all sorts of things can happen to make a sidewalk look bad–spills, gum stains, dirt, and more.
That's where we come in. We're like the sidewalk police. But instead of giving you a ticket, we give your sidewalk a good power wash or pressure wash. It will look so clean that people will be afraid to step on it. Just kidding. But yes, it's going to be spotless. And customers will get a great first impression of your establishment.
Commercial Pressure Washing Co. does exterior cleaning with professionalism beyond reproach. For more information about exterior cleaning in Los Angeles, CA, please give us a call at 310-997-4756.