San Gabriel Commercial Pressure Washing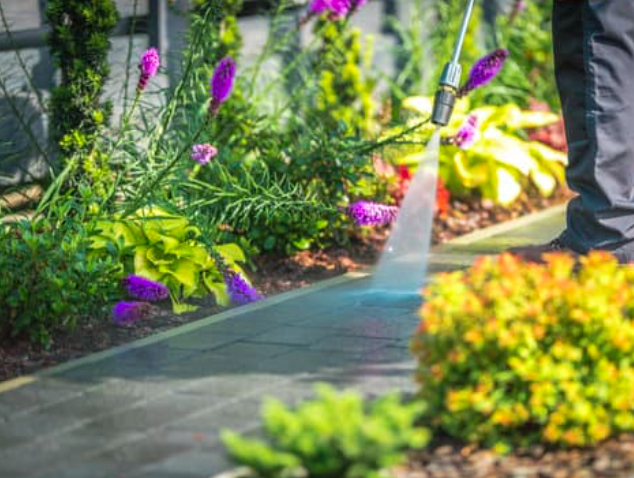 San Gabriel, California business owners are a hardy breed. They put in long hours behind a desk, and pound the pavement to keep their patrons satisfied.
As it happens, so does the crew at Commercial Pressure Washing Co. We are San Gabriel's go-to source for exterior pressure washing, power washing, and soft washing.
Whether your business is a car dealership, fast food restaurant, or even a quaint little curio shop, we have the experience and expertise to get the job done right. We understand that first impressions are important, which is why we go the extra mile to ensure your property is looking its best.
To get started on a pressure wash to make the exterior of your business look like new, call us today at 310-997-4756.
Downtown San Gabriel Pressure Washing
Own a business on Valley Boulevard? Or how about East Broadway, or South Del Mar Avenue? Wherever your establishment is located, our industrial power washing methods can get your exterior looking fresh as a daisy.
You might be surprised to learn that pressure washing can actually increase your property value. Whether you're looking to sell or just wanting to keep up appearances, a sparkling clean exterior is always a good idea.
When it comes to commercial pressure washing in San Gabriel, no one does it better than us. We have the equipment and experience necessary to take on any size job.
Sidewalk Steam Cleaning
Sidewalk Steam Cleaning in San Gabriel is sometimes known as sidewalk power washing. We know that business owners just like you can't afford to procrastinate when it comes to a dirty front walk. Potential customers are put off by ground in dirt, crushed bubble gum, or oily spots.
That's where we come in. Our professional sidewalk cleaners will have your entrance looking welcoming in no time. We use a hot high pressure washing technique where a jet of boiling hot water strikes the walk at as much as 3200psi. That's some serious impact power, and it leaves no speck of dirt behind.
Make the front walk of your establishment great again with a quick call to the folks at Commercial Pressure Washing Co.
Parking Lot Pressure Washing
Parking may be scarce in Southern California, but should your place of business have its own lot, put us to the task of keeping it clean.
Depending on what kind of surface it uses–and how old it is–we'll use pressure washing or power washing to give your customers a like-new looking place to leave their rides.
Of course, we understand that not everyone's business is the same. That's why we tailor our services to your specific needs.
Some of our previous clients include:
Auto dealerships

Malls and shopping plazas

Fast food restaurants

Banks

Schools and universities
San Gabriel parking lot pressure washing is a breeze when you have professionals like us to take care of it. Pick up the phone today and have a chat with one of our courteous, efficient staff members. From here, a clean lot is just hours away.
Large Building Pressure Washing
The team at Commercial Pressure Washing Co. doesn't limit its services to the ground floor. With state of the art equipment that includes lifts, cabling, and platforms, we can give the towering walls of your building a serious high-pressure clean.
You might be asking yourself, why wash my building when it's so high up? The answer is simple: because it needs it. Grime and dirt can actually eat away at the material of your building, weakening its structure and affecting its appearance.
It's important to remember that a first impression lasts. If potential customers or business partners see your building and think it looks dirty, they'll likely form a negative opinion of your company.
Invest in the future of your business by giving us a call today. We'll be happy to give you a free quote on large building pressure washing services.
Apartment/Condominium Complexes
Picture it: A tenant relaxing in his easy chair after a long day at work. His eyelids droop. He begins to snore. Ah, sweet, sweet sleep.
BLAM! A high-pressured bolt of boiling water suddenly strikes the wall! The guy falls out of his chair wondering if an invasion has begun. So much for sleep, fella. We've got work to do.
But seriously, our crew will happily–and peacefully–clean the exterior of any apartment or condo complex in San Gabriel. We understand that these types of buildings can be delicate, and we take extra care to not damage any property.
As always, our main goal is customer satisfaction. If you're not happy with the job we've done, then we haven't done our job. Give us a call today and let us give the exterior of your building a fresh new look. (No tenants will be terrified due to our activities).
San Gabriel Construction Cleanup
We may be a commercial pressure washing company, but did you know that our services also extend to construction cleanup?
If you're in the process of building a new home or business, chances are that things are pretty hectic. The last thing you want to worry about is cleaning up after the construction crew. That's where we come in. We'll take care of all the nitty gritty details so you can focus on more important matters.
A clean construction site is a happy construction site. Give us a call today and let us show you what we can do.
Window Cleaning And Maintenance
Our commercial pressure washing business also extends to windows. By adjusting the nozzles and pressure settings of our equipment, we can give your building windows a good pressure wash without shattering the glass.
Dirty windows can make a building look old and unkempt. If you want your business to give off a good impression, then you need to keep your windows clean. Let us help you with that.
Graffiti Removal
We all know that graffiti is unsightly. But did you know that it can also be damaging?
That's right. Certain types of paint can actually eat away at the material of your building, causing long-term damage. Not to mention, graffiti can also make your business look unprofessional and could turn potential customers away.
Against the strength of our hot high pressure machines, all that graffiti will come right off. Orphans of the video game Jet Grind Radio will be displeased–but you, the business owner, will be thrilled.
If you've got a graffiti problem, don't wait to deal with it. The longer you wait, the more damage will be done. Give us a call today and we'll have that graffiti removed in no time.
How Does Pressure Washing Work?
Okay, so now you know what we do and why you should call us. But how does pressure washing actually work?
It's simple, really. High pressure washing uses powerful machines to force water at high speeds against the surface of your building. This loosens dirt, grime, and other materials that may be stuck to the surface.
With power washing, the water is first heated to boiling temperatures before being blasted onto surfaces at 3200psi. This same pressure is used in pressure washing, but without the hot water. In both cases, detergents are mixed with the water to provide a spotless clean-up.
Our soft washing service goes with far less pressurized water. Instead, it relies on cleaning agents to work the dirt loose from the inside up. After the agents have had time to work, we then rinse the surface with low-pressured water.
This is ideal for more delicate surfaces that can't handle high pressure or heat. We use this method on stucco, shingles, and other sensitive materials.
Pressure washing is an effective way to clean any exterior surface. But it's also important to remember that it should be used with caution. If not done properly, pressure washing can cause serious damage to your property.
That's why it's always best to leave it to the professionals. We have the experience and knowledge necessary to get the job done right, without damaging your property.
If you're in need of a good pressure washing, then give us a call. We'll be more than happy to help you out.
Pressure Washing Prices
Now that you know all about our commercial pressure washing services, you're probably wondering how much it's going to cost you.
The price of our services will depend on a few factors, such as the size of the job, the type of surface being cleaned, and how dirty the surface is.
In most cases, we charge by the square foot. But we're always happy to give you a free estimate so you know exactly how much you'll be paying.
There's no reason to put off getting your property pressure washed. We offer some of the most competitive rates in the area. So give us a call today and we'll get started on cleaning up your property.
Pressure Washing Services for Every Business
Commercial Pressure Washing Co. is proud to serve the businesses of San Gabriel with top quality pressure washing services. We know that first impressions are important, and a clean exterior is always a good idea.
Whether you're looking to increase your property value or just wanting to keep up appearances, we can help. Our industrial power washing methods are perfect for any business, big or small.
Don't let all that dirt cake up any more. Call Commercial Pressure Washing Co. today at 310-997-4756.