Lakewood Commercial Pressure Washing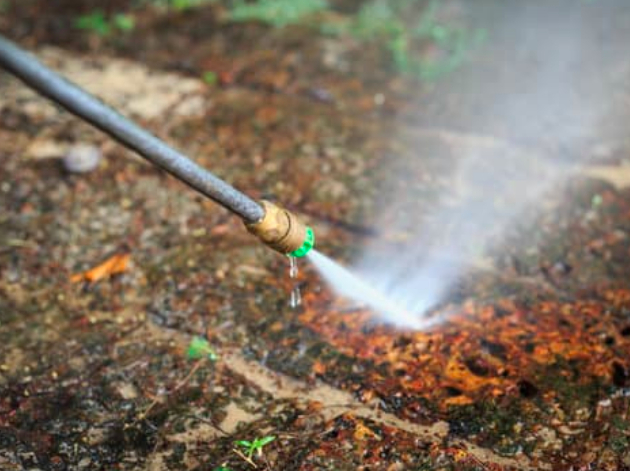 For the finest in industrial pressure washing in Lakewood, look up Commercial Pressure Washing Co. We are a comprehensive team focused on meeting high expectations from all of our distinguished clients. Your facade, front walk, parking lot, windows, and so much more will look like new after a pressure wash from our expert bunch of ripping lads and lassies.
Give us a call at 310-997-4756 to get free estimates.
Lakewood Exterior Pressure Washing
We do pressure washing–that's high pressure cleaning with cool water–on surfaces that need a deep cleaning but may be damaged by the hot water of a power wash. We use only the best in pressure washing equipment from brands such as Landa, Karcher, and Hotsy.
What are some of the things we can pressure wash for you?
Driveways

Decks 

Fences 

Walkways 

Awnings 

Patios 

Pool areas 
In addition to regular pressure washing, we also offer soft washing services. Soft washing uses a low pressure wash with cleaners that are safe for your surfaces but tough on the dirt, grime, and mildew that have taken up residence there. This is perfect for more delicate surfaces like stucco, painted surfaces, and roofing materials.
Whether you need a one-time job or regularly scheduled pressure washing services, we're here to help! We offer free quotes so that you know exactly what you're getting and how much it will cost. Contact us today to get started!
Hot High Pressure Washing In Lakewood
To clean off things like graffiti, oil, grease, mildew, crushed bubble gum, and other stubborn, sticky stuff, don't hesitate to put our power washing methods to work.
Imagine a jet of boiling water fired from a nozzle–at 3200psi. Now imagine it happening at 8 to 9 gallons per minute. That's going to result in a serious clean. But our Lakewood customers don't have to worry about that because we take care of it all.
We also have a flat surface cleaner that's ideal for cleaning large areas quickly and evenly, without damaging the surface. This is perfect for parking lots, driveways, sidewalks, and really, whatever you've got that needs a long, hot pressure shower.
Cliff Booth couldn't do a better job. In fact if he were real we're sure he'd give us a nod of approval. Call us today.
Lakewood Window Cleaning
We also wash windows better than Bluto in that old, old Popeye cartoon. We do it with tempered pressure that won't harm the glass or the frame. In fact, we're so confident in our window washing skills that we offer a 100% satisfaction guarantee.
Lakewood Graffiti Removal
Got graffiti? No vitamin D comes with that. Still, it's not a problem for us. We have the experience and equipment to quickly and easily remove it without damaging your property. The late Prince wouldn't be happy to hear about this, but you sure will. That bridge, wall, fence, or sidewalk will look good as new after we're through.
Lakewood Parking Lot Cleaning
In business for years, we've had ample opportunity to develop and hone our craft. We can remove oil stains, grease stains, rust spots, scuffs, scrapes and more. Our high pressure washing methods are just the ticket if you want smooth pavement that looks great.
So what are you waiting for? Give us a call today and let us show you what we can do. We're a piece of cake to reach at 310-997-4756..