Contact Commercial Pressure Washing Co.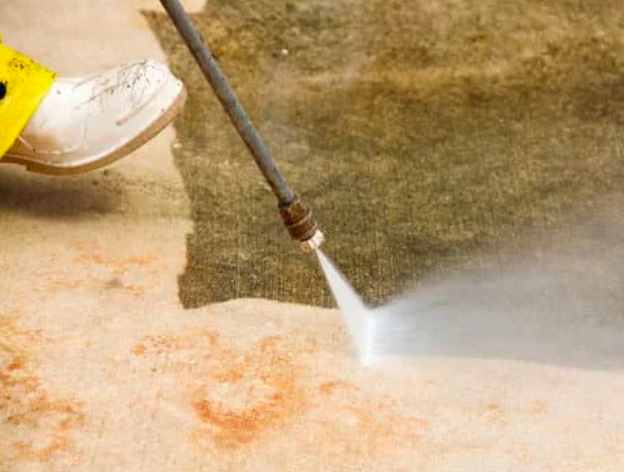 For all your power washing and pressure washing needs, contact the pros at Commercial Pressure Washing Co. We serve the entire Los Angeles area with spotless high-pressure cleaning that won't leave you hanging high and dry.
It is our pleasure to be a part of what keeps Los Angeles County clean. From Chatsworth to Pasadena, we are here to blast away the most stubborn grease, grime, and all-around muck you never thought you'd get rid of.
Contact us at 310-997-4756 to learn more about commercial pressure washing in Los Angeles, CA.
Industrial Pressure Washing Par Excellence
Whether you need hot high pressure washing or soft washing with a fine bristle brush, put our team on the case. We clean parking lots, gas stations, sidewalks, windows, chimneys, signage, and indeed, anything that needs a good scrub-down. Your commercial exterior will look like new when we're through.
This isn't because we merely talk the talk. We walk it as well, bringing professional-grade equipment and a host of satisfied customers in our wake. Our pressure washing services are the perfect way to give your business or home that extra bit of curb appeal it needs to really shine.
When you're ready to see the difference that quality pressure washing can make on your property, reach out to us for a free estimate. We'll let you know what we can do, and we'll back up our words with actions.
Make Us Your Building Washing Company
Building exteriors need cleaning just like everything else. Is that something one thinks about often? Nope. But it's true. And when it comes to building washing, we are the company to trust. Not only do we have the experience, but also the heavy-duty equipment needed to take on any size job.
We've pressure washed high-rises, hospitals, schools, government buildings, and more. We know how to get the job done right while also being safe and considerate of those who occupy the space.
If you have a building that needs to be cleaned, don't wait any longer. Contact us now for a free estimate on our building washing services.
Pressure Washing Services We Offer
We offer a variety of pressure washing services designed to meet your specific needs. Whether you need residential pressure washing or commercial pressure washing, we have you covered.
Some of the pressure washing services we offer include:
Concrete Cleaning

Roof Cleaning

Gutter Cleaning

Chimney Cleaning

Sidewalk Cleaning

Parking Lot Cleaning

Window Cleaning
This is just a sampling of what we can do. If you don't see what you're looking for, please contact us to inquire about other services we offer.
No job is too big or small for our team of pressure washing experts. Contact us today to get started on making your property look its best.
It's not every day a business owner can trust another with the dream they've spent so long to make real. We may only be a pressure cleaning service, but what we bring to the table will give your customers that crucial good first impression. A shiny clean entrance, spotless walls, perfectly clear windows, and more.
Contact Commercial Pressure Washing Co. today at 310-997-4756.