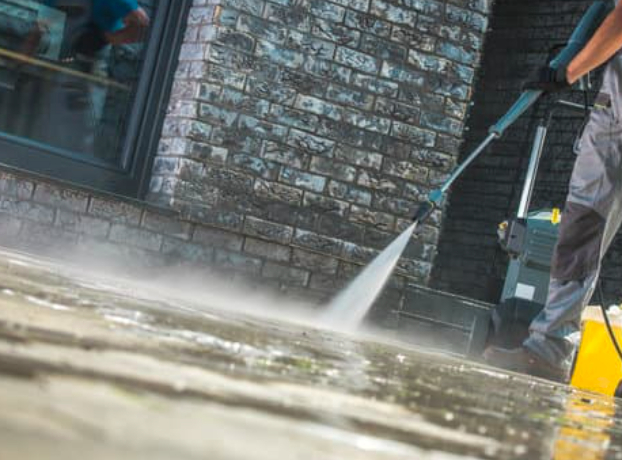 Commercial Pressure Washing Co. is dedicated to keeping the buildings, sidewalks, and parking lots of Montebello shiny clean with the highest tech washing equipment there is. We are proud to serve the city of Montebello and always go above and beyond for our clients.
Give us a call at 310-997-4756 to get free estimates.
Our Process
The first thing we do is arrive on time for our scheduled appointment. After a brief walk-through with the client, we begin the process by setting up our equipment. This usually only takes a few minutes. Then we start pressure washing. We use the latest and greatest technology when it comes to pressure washing, so you can be sure that your property is getting the best possible cleaning. 
After we finish pressure washing, we do a final walk-through with the client to make sure they are happy with the results. We take pride in our work and always guarantee satisfaction.
Storefronts, Walkways, Parking Lots, and More
We power wash and pressure wash just about any exterior surface there is. We have the experience and expertise to get the job done right, no matter how big or small the project may be.
A hot high pressure wash (power wash) is the best choice for cleaning off tough stains from grease, oil, or algae. Other projects are better suited to cool water pressure washing, while others still require the delicacy of a soft wash.
In any case, we have the right tools and know-how to get your property looking its best.
Montebello Puts on its Best Front
We offer our services to any business in Montebello that calls. We want to see the city at its best, which means keeping all the buildings and sidewalks clean. We also offer our services at warehouses.
We can pressure wash warehouse flooring, corrugated steel, ceiling beams, dumpster pads, and more.
Whether you need us once a month or once a year, we'll be there to make sure your property is always looking its best.
How Much Will it Cost?
The cost of our services depends on the size of the project and the complexity. We always give a free estimate before we start any work, so you'll know exactly what the cost will be.
We accept all major credit cards, so you can pay for our services however is most convenient for you. You won't regret calling Commercial Pressure Washing Co. for your Montebello exterior cleaning needs.
Call Us Today
If you are in need of a professional pressure washing company in Montebello, look no further than Commercial Pressure Washing Co. We offer competitive pricing, and our experienced team is always ready to take on your project. Give us a call at 310-997-4756.