About Commercial Pressure Washing Co.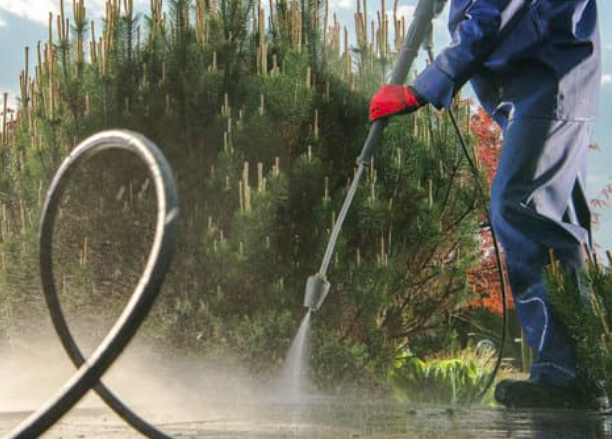 Commercial Pressure Washing Co. is a comprehensive commercial pressure washing business located in Los Angeles, California. We clean brick, concrete, sidewalks, parking lots, chimney stacks, driveways, and a whole host of other surfaces in and around your business.
Our team conducts exterior pressure washing services for many types of businesses, including apartment complexes, office buildings, retail establishments, restaurants, and more.
We understand that every business is different and tailor our pressure washing services to meet your specific needs. Our goal is to provide the highest quality pressure washing services possible so that you can focus on what's important – running your business.
Give us a call today at 310-997-4756 for spotless, like-new results you'll love.
Downtown Pressure Washing
We'll leave Petula Clark out of this. She has a lovely singing voice but we're much more about pressure washing. Specifically, power washing and pressure washing. If your business is located downtown our exterior cleaning service can get your façade, front walk, and even the windows looking squeaky clean. We have all the tools and the talent needed for an impeccable outcome every time.
Los Angeles is a huge city of almost 4 million people. But even if you're not in LA rooting for the Dodgers, chances are we can still make it to your doorstep. Just some of the places around Los Angeles County we've been to include:
Fullerton

Tustin

Mission Viejo

Anaheim Hills

Los Alamitos

Lakewood

Diamond Bar

Rowland Heights
So if you're interested in a great industrial pressure washing service, but aren't sure you're close enough for us to help, dial our number for a pleasant surprise. We'll be at your establishment in a hot minute to safely blast away dirt and grime. Doesn't matter how deeply ingrained it is, or how long it's been there. Our team is always feeling the urge to purge.
Power Washing Services
Power washing is a high-pressure cleaning method that uses boiling hot water mixed with detergents. It is also known as hot high-pressure washing. The jet is so strong, and the water so hot, nothing it hits is going to stick. This is a big reason we're always so careful about where we use it.
Power washing isn't for every surface. We use it in areas like:
Concrete

Brick

Asphalt

Pavers

Natural stone

Stucco

Wood decks & fences

Metal railings & stairs
In fact, not all concrete can withstand a good power wash, so at every job site, we evaluate what's going to work best–power washing or pressure washing (more on pressure washing in a bit).
We also do a lot of work with restaurants, as they are one of the businesses that can really benefit from our power washing services. We can clean the outside of your restaurant where thick grease builds up, such as doorways to dumpster areas. We can also pressure wash the parking lot and sidewalks to keep them safe and clean for your customers.
If you're interested in learning more about our power washing services or would like a free quote, give us a call today at 310-997-4756.
The Importance of Pressure Washing
Pressure washing is the same as power washing…only with regular water instead of boiling. Pressure washing is important for a number of reasons. It can remove dirt, grime, mold, mildew, and other debris from your property. It can also help to improve the curb appeal of your business.
Pressure washing is also important for safety. This is especially true if you have a business that gets a lot of foot traffic. Pressure washing can remove slippery substances from your sidewalks and walkways, making them safe for your customers and employees.
Give us a call today to learn more about our pressure washing services and how we can help you keep your property looking its best.
We Power Wash Parking Lots
Wherever hot high pressure washing is safe, we'll use it. This includes parking lots and gas station islands. Places like these see a lot of build-up from things like:
Oil

Grease

Dirt

Gum

Candy wrappers

Car fluids
Hot high-pressure washing is most efficacious for removing this build-up and getting your business property looking its best. We have the experience and the equipment needed to do the job right. Call us today for a free quote. Our courteous and efficient staff will pin down the price as close as they can. Don't worry–it's always reasonable. You won't be clutching your chest like Fred Sanford or hunting for pennies under the couch cushions.
Commercial Pressure Washing Co. is LA County's finest in high-pressure cleaning services.
Window Cleaning
Yes, we also clean windows, though with much lower pressure and a wide-pattern spray wand. These wands allow us to clean windows high over the walk. You don't have to worry about ladders or scaffolding. We can even reach some fourth story windows without them.
Your windows and window frames will come clean in no time flat when you give our team a call. 
Chimney Cleaning
Another one of our specialties is chimney cleaning. Creosote and soot build-up around your chimney is a fire hazard. Our team will come out and pressure clean it quickly and efficiently, getting rid of all the build-up and leaving your chimney looking like it was just built yesterday.
Soft Washing
For surfaces that cannot withstand a high-pressure wash, we offer a soft washing technique that's gentle but thorough. This is perfect for:
Stucco

Pavers

Wood

Windows

Doors
Soft washing uses low-pressure and specially formulated cleaners to clean these surfaces without damaging them. We've been soft washing for years and have the experience needed to do the job right. Call us today to learn more about our soft washing technique.
Graffiti Removal
Not all of this so-called "art" is pleasing to the eye. If your establishment has been sullied by pranksters in the night, call Commercial Pressure Washing Co. for a high-powered pressure clean that will undo the vandalism.
Walls, doors, windows, sidewalks–wherever you've been trolled, we can untroll it.
We've seen all kinds of dirt and grime, and can help you get your business looking its best again. Don't settle for second-rate cleaning jobs from fly-by-night companies, or waste time and energy on dubious DIY tricks.
Call your friends at Commercial Pressure Washing Co. We'll handle everything while you focus on running your business. You can reach us at 310-997-4756.