Los Angeles County Commercial Pressure Washing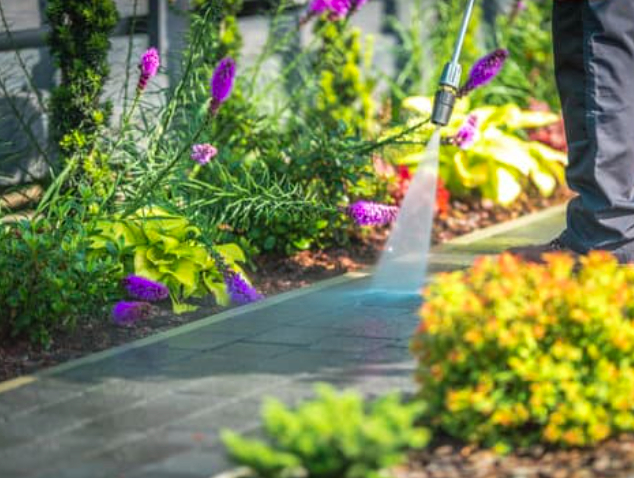 Commercial Pressure Washing Co. services all of Los Angeles County with power washing and pressure washing par excellence. We keep facades, sidewalks, walls, and windows looking clean as a movie set.
How? With state of the art equipment that can blast water at pressures up to 3200psi and 8 gallons per minute. Dirt, grime, grease, oil, mold, and mildew doesn't stand a chance against the cleaning power of Commercial Pressure Washing Co.
Call us today at  310-997-4756.
Power Washing And Pressure Washing–Big Benefits
Los Angeles County businesses take pride in their appearance. A well-maintained storefront or office building creates a lasting impression on customers and clients. It also tells the community that you're a professional operation that values quality and takes care of its property.
That first impression is important, but it's not the only reason to keep your business exterior looking its best. Regular power washing and pressure washing also:
1) Protects Against deterioration 
The elements can take a toll on any property, but especially on commercial buildings in Los Angeles County. dirt, dust, bird droppings, tree sap, and other things that accumulate on building exteriors can speed up the aging process, leading to damage and increased repair costs. Regular power washing and pressure washing protects your investment by keeping surfaces looking like new.
2) Boosts curb appeal 
As we mentioned earlier, first impressions matter. And if you're trying to attract customers or clients, a well-maintained exterior is a must. With regular power washing and pressure washing, you can ensure that your property always looks its best, boosting curb appeal and attracting more business.
3) Keeps Surfaces Sanitary 
Buildings that are regularly power washed and pressure washed can also help prevent illness. With regular cleaning, you remove dirt and grime that can harbor bacteria, reducing the risk of germs being transferred to employees or customers. This is especially important in areas like restrooms and kitchens.
We Also Do Los Angeles County Soft Washing
Not every surface reacts well to high pressure cleaning. Old concrete, brick mortar, stone pavers, and rooftops simply aren't going to hold up under 3200psi.
For these kinds of tasks we up soft washing from our deep and highly skilled bullpen of techniques. Soft washing relies on powerful detergents that clean surfaces from the bottom up without causing unwanted damage.
Not sure what kind of cleaning method you need? Don't worry, because our crew is fully trained to know what to do, when to do it, and how. Los Angeles County has never known a better commercial pressure washing company.
Exterior Power Washing
For surfaces sullied with deep, ground in dirt, graffiti, oil, or grease, our hot high pressure washing service is just the ticket. Our pressure washing machines can deliver hot water at temps up to 200 degrees, loosening and removing the toughest grime quickly and efficiently.
Hot water also does a better job of killing mold, mildew, bacteria, and other nasties that can cause illness or damage surfaces.
Picture it: A stained, crusty old sidewalk transformed into something like new after a good power wash. Spotty dirt all over the side of an old hotel coming off to reveal the fresh, clean paint that once made it a nice place to stay (and now it's nice again). A grease-stained parking lot where nobody wanted to leave their car suddenly looking as if it were poured yesterday. All of these things and more can become a reality with one phone call to Commercial Pressure Washing Co.
Los Angeles County Signage
Pressure washing is a great and efficient way to clean signage all over Los Angeles. We have a team of experienced pros that can take care of your entire business signage without damaging them (and without costing you a fortune).
Our sign cleaning services are available for all kinds of signs, including ACM panels, adhesives, and even building surfaces like cement. Our crew is fully insured and trained in the safe use of cleaners and solvents to get the job done right.
So don't just go out and buy a new sign when really, all the old one needs is a good pressure wash. Give our team a call.
Gas Station Pressure Washing
A better way to put this would be gas station power washing. That's because power washing uses high temperature, highly pressurized water to clean the grease and oil that builds up on gas station lots.
These same lots come off looking clean as a whistle after we get done with them. Not to mention that power washing is a lot cheaper than replacing the entire lot (which would be necessary if the grease and oil stains were left to bake in the sun for a long enough time).
We understand the unique needs of gas station owners and know how to get the job done quickly and efficiently. We also have a team of experienced professionals who can clean just about anything.
So if you're looking for a gas station power washing company in Los Angeles County, look no further. We're the company for you.
Graffiti Removal
Power washing, or hot high pressure washing, is also effective at removing graffiti. Our high pressure cleaning machines can remove graffiti from most surfaces safely, but don't just take our word for it.
Ask our satisfied customers about the quality of work we do and how much they love their new look. We have over a dozen years of experience dealing with all kinds of commercial buildings, both big and small; so no job is too big or too small for us.
In fact, we've cleaned some of the most hard to reach graffiti in Los Angeles County. If you're looking to get rid of that unsightly graffiti on your business building, then look no further than Commercial Pressure Washing Co. We're your best bet when it comes to dealing with unwanted paint on your property.
Prepping For Paint
On the flip side of graffiti removal, our industrial pressure washing service can get surfaces flawlessly clean for a new paint job. There's nothing worse than painting over a dirty surface, only to have the paint peel off later.
To avoid this, our team of experts will come in and give the entire area a good power wash before any painting begins. This way, you can rest assured that your new paint job will last for years to come.
Excess Mortar Removal
There are a number of ways to clean off excess brick mortar after a wall has been constructed. You can chip it off with a chisel, which takes a lot of time and patience. You can use muriatic acid, which is toxic. Or you can give the wall a good pressure wash.
Our experienced crew can clean your mortar off in record time, leaving you with a clean, attractive building that will look great over the coming years. Whether you've built a wall or a home of your own, we're the company to call for all of your pressure washing needs.
Don't let a bunch of goopy mortar dry in the sun and make your new construction project look ugly. Let Commercial Pressure Washing Co. help with safe, effective power cleaning.
Los Angeles County Parking Garages
We power wash and pressure wash parking garages all over LA County. After all, business owners just like you don't want their customers leaving their cars in some dingy, dirty basement. That's not the future, man. And it's not the future of your business.
You want customers to come back and park in your garage over and over again, so it's important that you keep yours looking clean and inviting. We at Commercial Pressure Washing Co. know what that takes, which is why we've been successfully pressure washing all types of parking garages for a long time.
We understand the special challenges that come with power washing a parking garage, such as getting into all of the nooks and crannies, and we're up for the challenge. So if you're ready to give your customers the best parking experience around, contact Commercial Pressure Washing Co. today.
Los Angeles County Locations
We've been to Santa Monica, Beverly Hills, Malibu, Marina del Rey, Burbank, Long Beach, Glendale, and really, just about every place in between.
We like the idea of keeping the county squeaky clean with the finest commercial pressure washing around. If you have a business in Los Angeles County, don't wait to get in touch with us. We're ready to give you the best power washing experience you've ever known.
The Bottom Line
When it comes to commercial pressure washing in Los Angeles County, nobody does it better than Commercial Pressure Washing Co. We're the experts in graffiti removal, paint prep, excess mortar removal, and parking garage power washing. Give us a call today to see what we can do for you.
Is there something specific you need cleaned, but you don't see it listed? Don't worry, because we offer a wide range of services that can take care of all your cleaning needs, including graffiti removal and even pressure washing snow and ice during the winter months (because yeah, we know how much snow SoCal gets). Whatever it is that you need, we're here to help.
So what are you waiting for? Give Commercial Pressure Washing Co. a call today and let us show you what we can do! We'll have your property looking better than ever in no time at all.
Call us today at  310-997-4756.