Anaheim Commercial Pressure Washing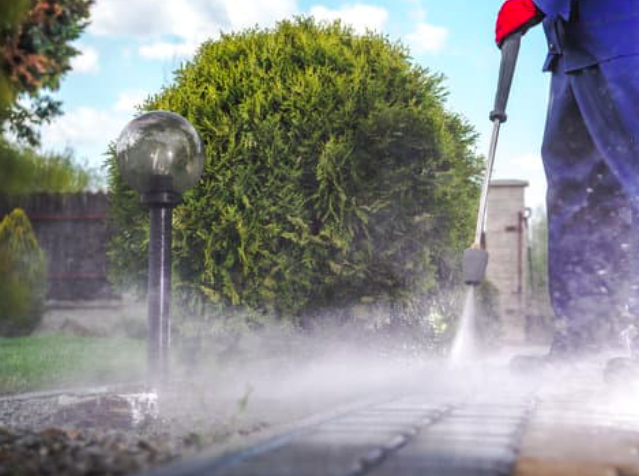 "Heim" means "home" in German. For business owners who call Anaheim home, it is imperative that cleanliness be maintained at all times. Keeping their establishments safe and looking nice for customers only makes sense.
The friendly crew at Commercial Pressure Washing Co. is here to help with that. We offer high-quality pressure washing services for all types of businesses, including:
Restaurants

Retail Stores

Office Buildings

Warehouses
And more!
No matter what type of business you own in Anaheim, we can help keep it clean with our pressure washing services. Call us today at  310-997-4756.
What Is Pressure Cleaning?
Pressure washing is a type of cleaning that uses high-powered water to remove dirt, grime, and other build-up from surfaces. It is an effective way to clean both the exterior and interior of businesses.
Using gas or electric motors, our equipment creates pressurized water up to 3200psi. This, combined with cleaning agents, hoses, and adjustable nozzles, gives your business exterior a thorough commercial pressure wash.
Some people use the term "power washing" to describe it. To be sure, we do power washing, but it is actually a different banana in that power washing uses boiling hot water for an extra deep clean, whereas pressure washing does not.
Benefits of Pressure Washing Services for Businesses in Anaheim
There are many benefits to pressure washing businesses in Anaheim. Some of these benefits include:
Curb Appeal: First impressions matter, and customers will often judge a business by its appearance. A clean business exterior creates a good first impression and can help draw in new customers.
Safety: A build-up of dirt and grime can create slip and fall hazards for customers and employees. Keeping your business clean can help prevent accidents.
Protection: Pressure washing can remove harmful substances from your business exterior, including mold, mildew, and algae. These substances can cause long-term damage to your building if left unchecked.
Extend the Life of Your Building: Regular cleaning can help extend the life of your building by preventing dirt and grime from causing long-term damage.
Call Commercial Pressure Washing Co. today. Our courteous and efficient staff is waiting to answer any questions about power washing or pressure washing you may have.
Exterior Pressure Washing
The exterior of your Anaheim business is the first thing that customers will see. First impressions are important, so you want to make sure that your business is looking its best at all times. That's where we come in.
The crew at Commercial Pressure Washing Co. offers high-quality exterior pressure washing services for all types of businesses in Anaheim. We have the experience and equipment to handle any job, big or small.
Just some of the places we've cleaned include:
Apartment/Condominium complexes

Retail centers

Medical complexes

Office and Industrial parks

Warehouses (interiors/exteriors)
For whichever Anaheim commercial location you'd like a good pressure wash, Commercial Pressure Washing Co. is here to get the job done.
Call us to find out more.
Stadiums
Man, the Angels are streaking right now. On the diamond that's fine. On the stadium walls and windows, not so much. Commercial Pressure Washing Co. does power washing and pressure washing for stadiums to keep them looking shiny and new.
Pressure washing services we offer for stadiums include:
Exterior Walls

Windows

Parking Lots/Garages

Restrooms
A clean stadium is a happy stadium. A happy stadium means happy fans, which means more money for the team. It's a win-win-win. So, if you're looking for a good pressure washing company in Anaheim to keep your stadium clean, look no further than Commercial Pressure Washing Co.
Government Pressure Washing
It's an inside job–all of it. Well, except for what we do. Our crew can handle exterior pressure washing for even the most clandestine of government complexes.
These guys really keep us on our toes–which is just fine. From the mayor's office to the Orange County Clerk Recorder, we keep the walls, walks, and parking areas clean with our high powered commercial pressure washing service.
If you work in an Anaheim government complex and you've been tasked with hiring a good pressure washing company, don't antagonize the men in sunglasses. Call Commercial Pressure Washing Co. today.
Hotels
If you own a hotel then you know how important exterior pressure washing is. All those travelling salesmen expect to see clean walls, smooth, spotless parking lots, and shiny windows. If they don't, well, you can guess what kind of TripAdvisor review they'll leave.
The next time you're looking for a good pressure washing company in Anaheim to give your hotel the once over, call Commercial Pressure Washing Co. We offer high-quality pressure washing services at very competitive rates. Trust us–your guests will thank you.
Some of the places we pressure wash at hotels include:
Walls

Parking lots/Garages

Sidewalks

Lobbies

Restaurants
Call us today to get a free quote.
Gas Station Pressure Washing
Anaheim gas station lots are prime places for oil and grease to build up. For this, a good power wash is an obvious solution. With heated water blasting the surface at high pressure, our gas station pressure washing services will quickly and effectively remove any build-up on your property.
Now all those fancy cars on a cruise from Los Angeles won't feel mortified to gas up at your islands. You'll look out the window to see Porsche 911 turbos, Ferraris, and Lamborghinis idling near the pumps. That's what we call eye candy.
Retail Shopping Centers Pressure Washing
Anaheim residents do love to shop. They love it even more when the building has clean walls and sidewalks to welcome them inside.
If you manage a shopping center in Anaheim then you know exactly what we're talking about. First impressions are key, and a good pressure washing can make all the difference.
Whether you have a small strip mall or a large complex, our power washing services will have your property looking top notch in no time. We'll take care of the walls, sidewalks, parking lots, and even the windows with our industrial pressure washing techniques.
Minimal Results, Soft Washing
Got a surface that can't withstand high pressure or boiling water? Don't worry, because the tricks up our sleeves include soft washing methods that won't harm material such as wood, old brick mortar, paint, or pavers.
This low-pressure washing method uses a biodegradable cleaning solution that is applied first, then gently rinsed away with low-pressure water.
It's perfect for:
Wooden Decks & Fences

Masonry (brick, mortar, stone)

Stucco

EIFS/Dryvit

Aluminum & Vinyl Siding

Painted Surfaces

Pavers & Concrete

Awnings & Canopies
For a free quote on our soft washing services, call Commercial Pressure Washing Co. today.
Doesn't All That Water Just Go To Waste?
Not at all. Remember the extraordinary cleaning job it does. And beyond that, Commercial Pressure Washing Co. sometimes reclaims the water it uses.
That's right, we have pressure washing machines that come with their own water tanks and pumps. This allows us to recycle the water we use to wash your property, which cuts down on wastage and keeps our prices low (and gals like Greta Thunberg a little happier).
Of course, this isn't always possible or practical. When it comes to pressure washing driveways and sidewalks, for example, the water just runs off into the street. But when we can recycle the water, we do.
So if you're looking for a green pressure washing company in Anaheim, call us today.
Parking Lot Sweeping In Anaheim
We may specialize in pressure washing, but our team handles parking lot sweeping as well.
After all, a pressure wash does nothing to remove the leaves, trash, and debris that have accumulated in your parking lot. That's where our Anaheim parking lot sweeping services come in.
We'll thoroughly clean your parking lot and remove any unsightly build-up. This will not only make it look better but also help prevent any accidents that could occur from debris on the ground.
And if you want to take it a step further, we also offer parking lot striping services. This involves painting new lines and symbols on your parking lot to optimize its space and help direct traffic flow.
Call us today for a free quote on our parking lot sweeping and striping services.
Storefront Window Cleaning
For storefront window cleaning all we need to do is adjust the nozzles on our equipment to keep the pressure not too high and not too low.
This is because storefront windows are delicate and need to be treated with care. Too much pressure and you risk shattering the glass. Too little pressure and the dirt won't come off.
But don't worry, our team of experienced window washers know exactly how to clean your storefront windows without damaging them.
And if you have any high windows that need cleaning, we have the tools and expertise to handle that as well. We'll set up a ladder or boom lift, depending on what's required, and get those windows sparkling clean in no time.
Expertise and Equipment
Whether it's your business or your home, when you're looking for somebody to do power washing or pressure washing, you want the best. With several years of experience in the industry, our team has the expertise to handle any job you throw at us.
Additionally, we use only the most modern equipment available on the market. This includes high pressure washing hoses and brushes. We ensure that your Anaheim property is cleaned thoroughly and carefully.
No job is too big or too small for Commercial Pressure Washing Co. Call us today for a free estimate!
Why Choose Us?
There are many reasons to choose Commercial Pressure Washing Co. for all of your power washing and pressure washing needs in Anaheim. Here are just a few:
We have years of experience in the industry.

We use high-powered equipment that creates pressure up to 3200psi.

This same equipment produces 4-9 gallons of water per minute.

We are fully insured for your protection.

We offer a free estimate so you know exactly what you're getting.
If you're looking for a good pressure washing company in Anaheim, look no further than Commercial Pressure Washing Co. We're tops in the business!
Reach us today at 310-997-4756.