Irvine Commercial Pressure Washing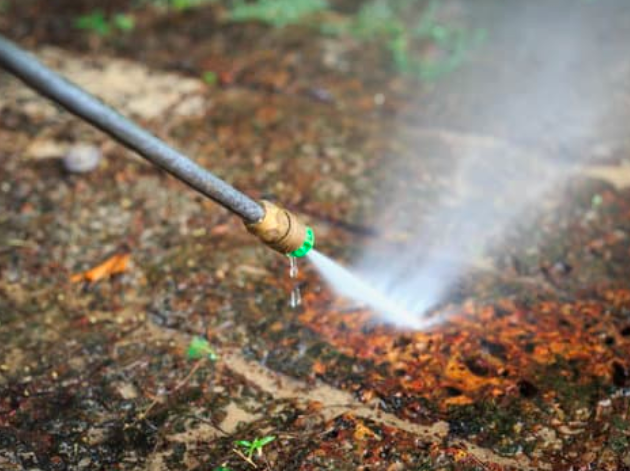 The city of Irvine, California has more than once called upon Commercial Pressure Washing Co. for high pressure, deep cleaning service. If you own a business here you might already know that. Our reputation precedes us, as does the confidence property owners put in our crew.
With industrial pressure washing and hot high-pressure washing, we've helped to keep Irvine looking fresh as if it were built only yesterday. Call us today at 310-997-4756.
Pressure Washing Or Power Washing?
High-pressure washing is the act of using water released from a nozzle at extremely high pressure. Mixed with detergents, the pressure helps blast away dirt, grease, oil, mould, mildew, graffiti, slime, muck, and various other icky things that build up on exterior surfaces.
Both pressure washing and power washing employ this technique. The former, however, use lukewarm water, whereas the latter really gets down to business with boiling hot water. This is because some of that gooey stuff listed above simply won't come off without the aid of extreme heat.
If you own property in Irvine and need help with commercial pressure or power washing services, give us a call at 310-997-4756. Our team of experienced professionals are equipped with the right tools and techniques to tackle any cleaning job, large or small. With our help, you can keep your property looking its best for many years to come.​
At Commercial Pressure Washing Co., we have been providing high-pressure cleaning (3200psi at up to 9 gallons per minute) services to the greater Los Angeles area for many years. We are a family-oriented and operated business, and we take great pride in our work.
Our customers are our top priority, and we go above and beyond to ensure they are 100% satisfied with our services. Whether you need commercial or industrial cleaning services, we have the equipment and expertise needed to get the job done right. We use only state-of-the-art equipment and cleaning solutions that are safe and effective.
Downtown Pressure Washing
We've serviced places like the Spectrum Center and the Civic Center. These are big places to be sure, but even if you run a small business please don't hesitate to call.
Front walks, walls, entrance ways, dumpster areas, parking lots, and plenty of other places around your building can sometimes use a good pressure wash. It doesn't have to be a monumental task, and it's certainly not something you should put off.
Algae, mold, mildew, and other organisms love nothing more than to set up shop on the exterior of buildings. Not only is this unsightly, it can also lead to structural damage if left unchecked. That's why it's important to call in the experts at Commercial Pressure Washing Co. for a thorough high-pressure cleaning as soon as you notice any growth or build-up occurring.
We'll get your Irvine property spotless with electric or gas powered machinery that produces high pressure streams of water through an adjustable nozzle. Once we're finished, surfaces such as concrete, brick, asphalt, vinyl siding, windows, and plastic signage will look good as new.
Irvine Window Cleaning And Maintenance
It sounds bizarre at first, but yes, we pressure wash commercial windows. Our machinery is fully adjustable so as not to blast the glass with too much power. We use soaps and detergents that help repel dust, dirt, and grime for easier maintenance.
Got windows way up high? Commercial Pressure Washing Co. uses cranes, lifts, and cable systems to pressure clean at dizzying heights so you don't have to. We also do Irvine storefront window cleaning.
Call us today to discuss your needs with one of our friendly and knowledgeable representatives, or fill out our convenient online contact form for more information. We look forward to working with you soon!
Awning Cleaning Services In Irvine
Whether you've got a restaurant with outdoor seating or a store with a covered walkway, we can pressure wash and clean your awnings. This will help keep them looking great and increase their lifespan.
We understand that first impressions are important, which is why we offer awning cleaning services to businesses in Irvine. If you have an awning that is stained or covered in dirt and grime, it can make your business look uninviting and run-down.
A clean awning, on the other hand, will make your business look well-maintained and professional. This can attract new customers and help you keep the ones you already have.
If you're interested in our awning cleaning services, please give us a call. We'll be happy to answer any questions you may have and provide you with a free quote.
Retail Shopping Centers
Pressure washing at retail shopping centers needn't create havoc for shoppers. When Irvine retailers call Commercial Pressure Washing Co. for power washing services, we work around their schedules to avoid any inconvenience.
We have the experience and equipment needed to clean all types of retail shopping centers, including strip malls, enclosed malls, and outdoor plazas. (No one has asked us to clean the giant wheel at Irvine Spectrum Center yet, but we're ready to do it). We can pressure wash sidewalks, parking lots, entryways, facades, rubbish bins, and anything else that needs to be cleaned.
Our staff members are experts in their field and have the knowledge needed to select the right equipment, cleaning solutions, and methods for your facility. Our goal is always to provide excellent results without disrupting business operations or inconveniencing shoppers.
Commercial Pressure Washing Co. has been serving the Irvine area for several years now with our affordable and effective pressure washing services. We're a tight-knit business, and we treat our customers like family.
Irvine Warehouses (Interiors/Exteriors)
Our industrial pressure washing extends to warehouses all over Irvine, California. Corrugated steel, vinyl siding, concrete lots, cinder block walls, and really, whatever surface around a warehouse you can think of, we can pressure wash.
We have the industrial-grade equipment needed to clean outdoor storage areas and shipping docks, but we know that indoors warehouse cleaning isn't always possible. That's why we also offer interior cleaning services for warehouses in Irvine.
Exterior: If your warehouse has a loading dock or large open space, our industrial pressure washing will get it sparkling clean again. Our methods are safe and efficient, so we can get your surfaces cleaned without any interruption of normal operations.
Interior: If you need the insides of your warehouse cleaned but don't want to part with productivity, that's fine! We offer interior cleaning services for warehouses in Irvine at competitive rates. Our staff will work around your schedule and ensure that your warehouse is clean and presentable for customers and employees.
Contact us today to learn more about our pressure washing services for warehouses in Irvine, CA. We'll be happy to answer any questions you may have and provide you with a free quote.
Floor Scrubbing
And speaking of interior pressure cleaning, Commercial Pressure Washing Co. also handles floor scrubbing. We know that keeping your floors clean is an important part of maintaining a professional image, so we offer services to get them sparkling clean again.
From warehouses and retail shopping centers to office buildings, hospitals, stores, and banks…you name it, our floor cleaning machines can handle it. We have the industrial-grade equipment needed to remove dirt, grease, mud, gum, and other stains from your hard floor surfaces. And when you call us, don't forget to ask about our stripping and waxing service for industrial tiles.
With our fast turnaround times and affordable rates, you no longer have to worry about keeping your floors clean. Contact us today for the best floor scrubbing services in Irvine!
Pressure Washing Sanitations
One of the benefits of pressure washing is that it's a great way to sanitize surfaces. Our pressure washing services can remove dirt, grime, and other contaminants from your property, leaving it clean and safe for employees and customers.
We use high-pressure water to remove all the dirt, dust, and debris from your surfaces. This not only cleans your property but also disinfects it, making it safe for everyone.
So, if you're looking for a way to keep your property clean and sanitized, look no further than Commercial Pressure Washing Co. We offer the best pressure washing services in Irvine, CA.
Call us today at 310-997-4756 to learn more about our Irvine pressure washing services and how we can help you keep your property clean and safe.
Irvine Medical Complexes
Keeping the exterior of a wellness center is imperative. The health of sick patients is at stake.
At Commercial Pressure Washing Co., we understand the importance of keeping medical complexes clean and sanitized. With our affordable pressure washing services, we can help you maintain a safe and healthy environment for patients and staff alike.
Our industrial-grade equipment is designed to remove dirt, grease, grime, debris, mold, mildew, and other contaminants from your surfaces. We also offer a wide range of services to keep your medical complex clean, including:
Pressure washing/Power washing

Window cleaning

Gutter cleaning

Roof cleaning
And more!
Don't wait any longer, call us today and see how we can help you maintain a clean and healthy environment for your patients. We look forward to working with you!
Believe us when we tell you that no other pressure washing company near Irvine can compare to Commercial Pressure Washing Co. Our team of experienced and professional staff use the most advanced technologies and equipment in the industry to get your property looking new again.
Call us today at 310-997-4756 for more information.