San Pedro Commercial Pressure Washing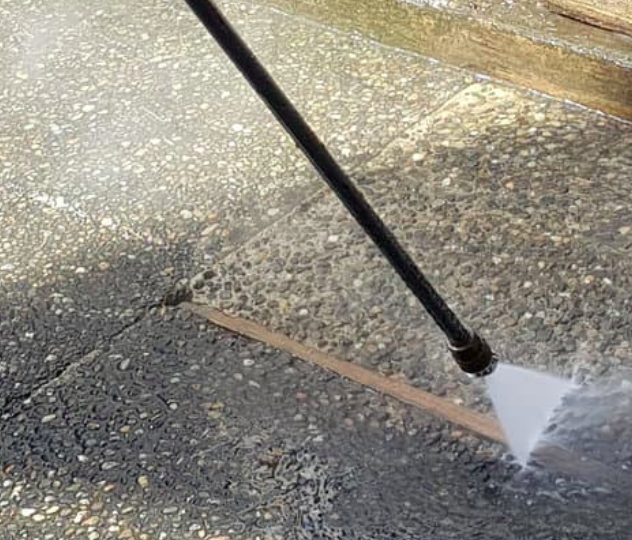 The San Pedro neighborhood of Los Angeles has a reputation for cleanliness. Its streets, sidewalks, and buildings shine with the sun. One reason for this? When San Pedro business owners need a good pressure washing for their establishment, they call Commercial Pressure Washing Co.
Whether it's a restaurant, store front, or office building, our team of experienced pressure washers will get the job done right. We understand that first impressions are important, and we'll make sure your property looks its best.
Why Commercial Pressure Washing Co.?
If you own a business in San Pedro, you may notice from time to time that the building could use a good cleaning. Dust and dirt from windy days may have accumulated on the walls. The windows may be streaked or smeared with build-up. In any case, we're a commercial pressure washing company that cleans it all.
What sets us apart from other pressure washing companies? We focus on quality, not quantity. We take the time to do the job right, and we use only the best equipment and products available. This ensures that your property will look its best for a long time to come.
Where the speed comes in is with hot high pressure washing. Our modern cleaning equipment is tops in the field. This allows us to work quickly and efficiently without sacrificing quality.
Pressure Washing vs. Power Washing
Both pressure washing and power washing are similar in that they use a jet of pressurized water mixed with detergents to do a thorough cleaning job. However, pressure washing uses cool water, whereas power washing turns up the heat to boiling temperatures.
We recommend pressure washing for most commercial properties in San Pedro. Power washing should only be used in special cases, such as when removing graffiti, gum, or grease. Our power washing services are popular at gas stations. We also use it in parking garages where years of oil have gotten deep into the surface.
For whichever method you need, Commercial Pressure Washing Co. is San Pedro's number one choice. To quote Tom Cruise from one of his old movies: "I won't let you down, Goose." (Did he really say that or is it just a meme?).
Call Commercial Pressure Washing Co. today for a free estimate!
Do You Really Clean Windows?
Yes, we do! In addition to pressure washing, we also offer window cleaning services. Whether you have a small office or a large storefront, we'll get your windows squeaky clean. We understand that having clean windows is important for businesses of all types.
We use a special nozzle kit that turns our pressurized water into something more like a pressurized spray. This is far safer for the glass and anyone standing around it.
In addition to the standard soap-and-water method, we also offer a distilled water wash. This is perfect for businesses that have a lot of windows, such as stores, restaurants, and office buildings. It's also great for those who are environmentally conscious.
How Often Should I Have My Property Pressure Washed?
This really depends on the business. For some, once a year is sufficient. For others, we recommend every six months. It really just depends on how often the building or sidewalk gets dirty. We can tell you that in San Pedro it is more like every 3-4 months. This neighborhood is such a treat to visit.
If you're not sure how often to have your property pressure washed, just give us a call. We'll be happy to come out and take a look. We can then give you a recommendation based on our years of experience.
Who Are Your Customers?
We work with businesses of all types in the San Pedro area. Whether you're a small mom-and-pop shop or a large corporation, we have the services that you need.
We also work with property management companies and HOAs. If you manage a commercial property or a group of properties, we can help you keep them looking their best.
For the finest in commercial pressure washing and commercial power washing in San Pedro, call Commercial Pressure Washing Co. today at 310-997-4756.