Los Angeles Sidewalk Cleaning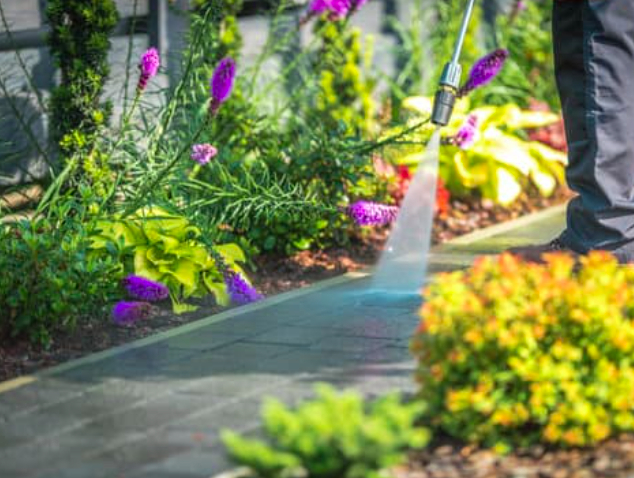 Just as your business structure should always be clean as a whistle, so too should the sidewalks around it. Commercial Pressure Washing Co. includes sidewalk cleaning on its long list of services. Whether you own an office, hotel, retail center, or warehouse, give us a call when it's time to clean those walkways.
Give us a call at  310-997-4756 to learn more about sidewalk cleaning in Los Angeles, California.
First Impressions Count
We talk a lot about curb appeal in these columns. That's because it's true-the first impression guests, clients, and customers have of your business comes from the outside. If the sidewalk is grimy and stained, it reflects poorly on your business as a whole. You don't want potential customers to get the wrong idea before they even walk in the door!
Sidewalk cleaning is one of those important but often overlooked details when it comes to business maintenance. It's not as glamorous as a new paint job, but it's just as important. A pressure washing company like Commercial Pressure Washing Co. has the equipment and expertise to clean your sidewalks quickly and efficiently.
The Benefits of Professional Sidewalk Cleaning
There are several benefits to having your sidewalks professionally cleaned on a regular basis. First, it creates a better impression for anyone who sees your business. Second, it can actually extend the life of your sidewalk by removing built-up dirt and grime that can cause deterioration.
And finally, it's a safety issue. Slips and falls are always a possibility when walking on a dirty sidewalk, and you don't want your business to be liable if someone is injured. Keeping your sidewalks clean minimizes the risk of accidents.
Scheduling Sidewalk Cleaning Services
Commercial Pressure Washing Co. offers scheduled cleaning services for businesses of all types. We'll work with you to create a schedule that fits your needs whether it's once a week, once a month or something in between. We understand that every business is different, and we'll create a customized plan to ensure your sidewalks are always clean.
Give us a call today to learn more about our sidewalk cleaning services.
We Pressure Wash And Power Wash
Depending on how well we feel your sidewalk will hold up under a good blast, we'll go with either a pressure wash or a power wash. Both methods use pressurized water and detergent for a thorough cleaning, but with power washing, the water is boiling hot. This latter is also known as hot high-pressure washing. Hot water cleans deeper but can be detrimental to certain surfaces.
The team at Commercial Pressure Washing Co. is highly knowledgeable about when to use which method, and why. If it's sidewalk steam cleaning you need, you've got it. If a soft washing will work better, you've got that, too. No worries, mate. No worries either with the rest of the process. We'll take care of everything from start to finish, leaving you with a clean sidewalk and one less thing to worry about.
Sidewalk Cleaning Near Me
If you're searching for "sidewalk cleaning near me", look no further than Commercial Pressure Washing Co. We offer our services to businesses throughout the area, and we're always happy to help. Give us a call today to schedule a consultation. We'll come out to your business, take a look at your sidewalks, and develop a customized cleaning plan.
We clean walkways outside of hotels, government buildings, stadiums, apartments/condominiums, retail centers, and so much more. For these same places, we also do hot high pressure washing for dumpster areas and graffiti.
No matter where your sidewalk washing needs may lie (on the sidewalk, we know), the team at Commercial Pressure Washing Co. is always happy to help out. Call us today at 310-997-4756. You'll get a spirited hello from a member of our courteous and efficient staff. From there, a like-new sidewalk is just hours away.