Los Angeles Commercial Cleaning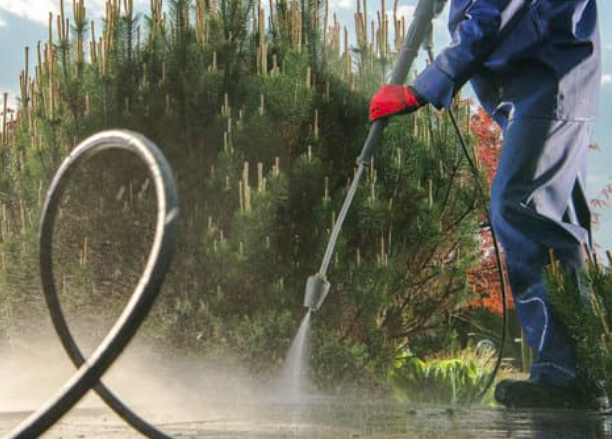 Commercial Pressure Washing Co. conducts high-pressure commercial cleaning in and around Los Angeles. We cover all of Los Angeles County and Orange County with the most extensive pressure washing and power washing the industry has ever known.
Sidewalk steam cleaning, walls, parking lots, parking garages, exterior pressure washing, window cleaning, and maintenance, plus so much more can be found right here at our enterprising abode. So don't put off a good high-pressure wash, or spend hours trying to find the right team for the job. Call Commercial Pressure Washing Co. today by dialing 310-997-4756.
Pressure Washing Services For Every Surface
We use pressure washing for surfaces that aren't quite up to withstanding the heat of power washing. Power washing uses high temperatures to not only clean surfaces but also disinfect them. The two services are often confused, but they are actually quite different.
Pressure washing is the perfect solution for:
Sidewalks

Garages

Parking Lots

Walls

Building Exteriors

Windows
And honestly, anywhere that doesn't react well to boiling hot water (power washing). Our fine bristle brush for pressure washing technique won't damage sensitive surfaces or leave them looking raw and chafed. You won't be disappointed with the results of our pressure washing services!
Call us today at 310-997-4756 for all your commercial cleaning needs in Los Angeles, CA!
Power Washing Services
Power washing is similar to pressure washing, except the water is heated to boiling temperatures. This, mixed with aggressive detergents, really goes deep to clean off stubborn build-ups such as mold, mildew, grease, and oil. It also is great for disinfecting surfaces.
Here are some of the benefits of our power washing services:
Disinfects Surfaces

Removes Stubborn Build-up

Cleans Deeply 

Prepares Surfaces For Painting
If you're not sure whether you need pressure washing or power washing, just give us a call. We would be happy to come out and take a look. We always offer free quotes!
Call Commercial Pressure Washing Co. Today!
Parking Lot Sweeping
We not only clean walls and walkways but parking lots as well. Our parking lot sweeping service provides a thorough scrub to get even the most filthy lots clean and shiny.
Reap the benefits of a clean parking lot by calling Commercial Pressure Washing Co. today. The surface of the lot will last longer by being clean. With less dirt and debris scuffing over the asphalt, you'll eliminate sewer blockage, reduce erosion, and snuff out bad smells.
The lot will also be safer to drive and walk on. Zero loose stones mean less chance for slippage or rocks being kicked up from spinning tires. Your business will be better protected from potential liability.
Window Cleaning and Maintenance
No commercial cleaning service would be complete without window cleaning and maintenance. Streak-free windows give your customers a good first impression and let in natural light, making the space feel more open.
We recommend having your windows cleaned at least semi-annually, but we understand that's not always possible. That's why we offer monthly, bi-monthly, and quarterly service plans to fit your budget and needs.
Call Commercial Pressure Washing Co. today for all your commercial cleaning needs! We are the commercial pressure washing business every entrepreneur needs for a clean, healthy environment.
Call us today at 310-997-4756.