Orange County Commercial Pressure Washing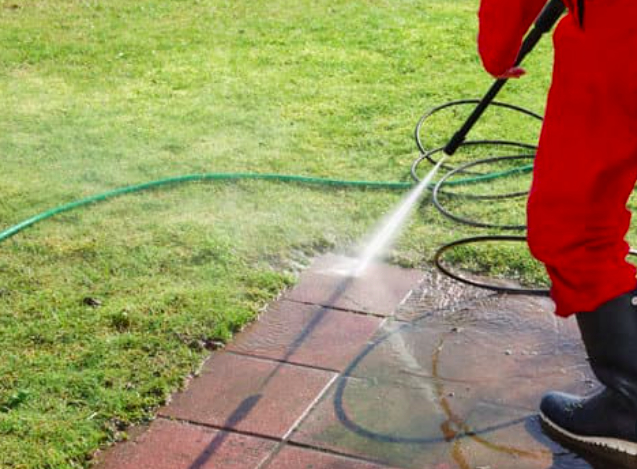 Orange County, California is known for its leanings toward the preservation of history. Many of the buildings here date back before 1920.
Part of maintaining them involves keeping their exteriors clean. That's where our services come in handy. Commercial Pressure Washing Co. is glad to perform industrial pressure washing for every shop, mall, parking lot, and government building in Orange County.
Give us a call at 310-997-4756 to learn more about Orange County commercial pressure washing services.
What Is Pressure Washing?
Pressure washing is the use of high-pressure water to remove dirt, grime, mold, and other buildups from surfaces like sidewalks, parking lots, driveways, decks, patios, siding, and brick. It can be done by hand with a brush and hose, but most commercial jobs are best left to pressure washing machines. These machines blast hot or cool water at up to 3200psi.
Our crew has the knowledge and the dedication to get the job done right, no matter how big or small. We use only the best pressure washing machines and eco-friendly solutions to ensure that your building is left as clean as can be without any damage.
What Are The Benefits of Pressure Washing?
There are many benefits to having your commercial property pressure washed on a regular basis. Not only will it improve the curb appeal, but it can also:
Remove dangerous mold and mildew

Loosen grime and dirt for easy removal

Prevent deterioration of your building's exterior

Improve air quality around your property
When Should I Pressure Wash My Building?
Most commercial properties should be pressure washed at least once a year. If you live in an area with high pollen counts, you may need to have it done more often. Pressure washing can be done in any season, but we recommend doing it in the spring or fall when the weather is milder.
Sidewalk Steam Cleaning
Commercial Pressure Washing Co. also uses hot high pressure washing on sidewalks. This is a great way to remove gum, dirt, and grime. It's also an eco-friendly way to clean, as it doesn't use any harsh chemicals.
Your front walk and entranceway can look good as if it were poured yesterday. This once we've cleaned it using our state of the art equipment.
Windows, Walls, Parking Lots, And More
No matter what type of buildings you have, we can get them looking great. We pressure wash windows and exteriors and apply sealants to protect against nature's elements. Our crew also cleans parking lots and driveways. They'll even clean outdoor signs!
We also do commercial pressure washing for dumpster pads. The trash area for your establishment will look spotless once we're through. Better still, it'll be perfectly sanitized.
The Pressure Washing Company In Orange County
Don't waste time flipping through the Rolodex trying to find a good pressure washing service. That's cutting into your profit margin. Just call us. We're the best in the business, and we're always here to serve you.
We'll come to your location, assess the situation, and give you a free estimate. Once we've started work, we'll finish quickly and efficiently so that you can get back to business as usual.
You can reach us during business hours at 310-997-4756.