Norwalk Commercial Pressure Washing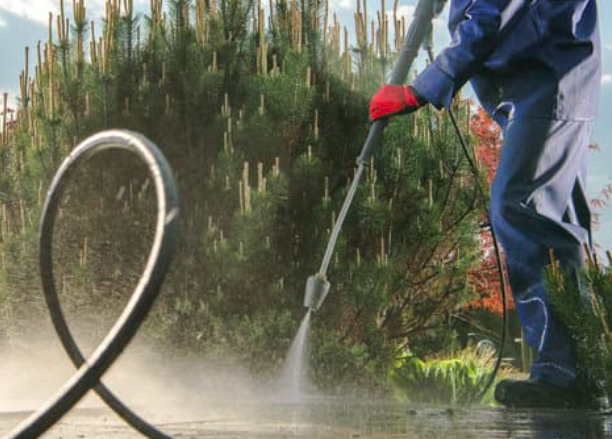 Norwalk, Ohio–or make that California–keeps its business exteriors looking clean at all times. We at Commercial Pressure Washing Co. feel quite responsible for the fact.
That's because our commercial pressure washing business strives for spotless perfection…at all times. Whether your business is a factory, office building or retail store, we will keep the outside clean–and impressing customers, clients and employees.
Give us a call at 310-997-4756 to learn more about commercial pressure washing in Norwalk, CA. Dial now to get free estimates
What We Do
It all starts with our proven pressure washing process that uses highly pressurized water and environmentally-friendly cleaners to remove all dirt, grime and stains from your building's exterior surfaces. Then we complete the job by power washing walkways, parking lots and any other areas that need it.
The result? An exterior that looks amazing…and represents your business well.
Who We Are
Commercial Pressure Washing Co. is a fully licensed and insured company. We are also bonded, so you can be confident that we will take care of your property as if it were our own.
We are a family-oriented company that has built up an impressive following over the years. With high pressure window, wall, parking lot, and sidewalk washing that always comes out so clean, things can hardly be otherwise.
Our staff is courteous and efficient. Feel free to ask any questions about pressure washing you may have. And don't forget we also offer free balloons for the kids! We are working people who work for working people. That's who we are, and that's who we care about.
What Makes Us Different
We don't just focus on the big picture. We also pay attention to the details, so you won't find any irritating streaks or spots once we're done cleaning your property. And our services are affordable and convenient, with flexible scheduling options that fit your specific needs.
If you want to keep your business looking its best at all times, then please give us a call today. We'll be more than happy to come out and take a look at your property, provide you with a free estimate, and answer any questions you may have. Thank you for considering Commercial Pressure Washing Co.!
Pressure Washing Services:
exterior walls

parking lots

gutters

awnings

driveways

decks & patios
Have we gone mad? Not at all! It's just that our services extend so far, and our dedication to excellence runs so deep, it's hard to list everything we do. Just trust us when we tell you that Commercial Pressure Washing Co. is the trusted go-to pressure washing company in Norwalk, California.
Government Pressure Washing
Be it the Norwalk Government Center, the Public Safety Department, or even the Maintenance Yard, the crew at Commercial Pressure Washing Co. can keep it all clean.
Nor will we be secretive or hush-hush. On the contrary, we will tell you exactly what we are doing at all times, and answer any questions that you may have. We understand that it is your property, and we will treat it with the utmost respect. Oh and once we're done? You might think you've gotten yourself a whole new exterior.
So please give us a call today at 310-997-4756. We would be honored to serve you and your property, and provide you with the cleanest, most spotless appearance possible.