Orange Commercial Pressure Washing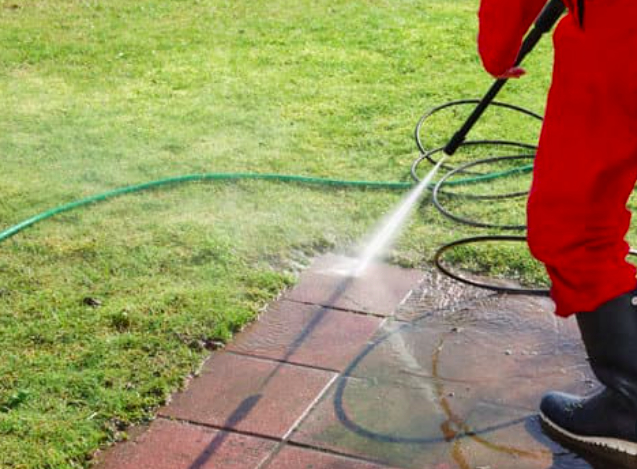 For the 3 million or so people in Orange, California, cleanliness of its streets and buildings isn't often overlooked. And for the hard working team at Commercial Pressure Washing Co. it's an absolute must.
Whenever a business owner contacts us about having sidewalks, parking lots, building facades, windows, or garages pressure washed, we get right to work doing what we do best. With modern equipment to clean a variety of surfaces, our guys will always make sure that patrons don't come off disappointed.
For the most thorough Orange pressure washing and Orange power washing, call us today at 714-868-0722.
Power Washing vs. Pressure Washing
Many industrial pressure washing firms like to confuse power washing and pressure washing. There is a distinction between the two, as well as a significance in knowing it. In essence: Power cleaning uses hot water, whereas pressure washing does not. This is more than meets the eye. Let's have a look at things in greater detail.
The first, and most obvious difference, is temperature. A power washer will use water that's heated to around 200 degrees Fahrenheit. That's hot enough to strip away grease, oil, and other caked on grime with ease. Pressure washing uses high-pressure water at normal temperatures to clean surfaces too delicate for extreme heat.
So if we're conducting, say, parking lot cleaning, we may use a power wash to strip away years of driven in grease and oil. On the other hand, to clean dirt from an old brick wall we would likely go with a pressure wash.
Both methods use about the same amount of pressure–about 3200psi at their max. That's insanely powerful, and as such, we make adjustments as needed, and swap out spraying wands to match the needs of different surfaces.
The point is that there's a time and place for both power washing and pressure washing. And the team at Commercial Pressure Washing Co. knows just when to use each one.
Why Should I Pressure Wash?
Pressure washing is such a vital part of keeping commercial and municipal buildings clean. Not only does it make them look great, but it also protects against the growth of mold and mildew, which can cause all sorts of damage.
Consider this: every time it rains, your building is getting hit with dirt, pollen, spores, and other airborne particles. All of this washes down onto surfaces, and over time will start to discolor them. But with a pressure wash, you can blast all of that grime away quickly and easily, keeping your building looking great for years to come.
Or consider this: If you have a parking garage or lot, a great deal of grease and oil from all those cars builds up over time. With hot high pressure washing (a power wash) it all goes away to leave a surface that looks like it was poured just yesterday.
We can do the same kind of thing for gas stations (gas station pressure washing), signage, vinyl siding, entrance-ways, and much more. Our exterior pressure washing and power washing is second to none. So don't procrastinate; set a date. We can make your Orange business look shiny as Miami Beach in 1984.
Pressure Washing To Prepare Surfaces
We should also mention that pressure washing is a great way to prepare a surface for painting. Whether it's a building façade or a parking lot, getting rid of all that dirt and grime will make it much easier to achieve an even paint job.
With power washing, we can actually clean off old paint that you're no longer happy with. Our paint stripping service is neat and efficient. And you'll be pleased to see your building set and ready for a fresh paint job.
What Can Commercial Pressure Washing Co. Do For You?
At Commercial Pressure Washing Co., we specialize in bringing the sparkle back to your business. We understand that first impressions are everything, and a dirty building is sure to turn potential customers away.
That's why we offer a wide range of services to keep your building looking great. From parking lot cleaning and power washing to paint stripping, we do it all.
We're also proud to say that we're a family-oriented and operated business. That means you can expect the highest level of customer service from us. We'll work with you to figure out a schedule that works for you. And we're always available to answer any questions you may have.
So if you're in need of pressure washing or power washing services in Orange, give us a call today. We'll be happy to provide you with a free quote.
About Commercial Pressure Washers
These machines look sort of like a big tank on wheels. Using a gas or an electric motor, they create an enormous amount of pressure that blasts through a hand-held nozzle. Many of these washers are also used with aggressive detergents for an even more powerful clean.
Parts of an industrial pressure washer include:
The tank

The hoses

The nozzles

The engine or motor

Valves

Gauges
But you won't have to worry about all this stuff. Not when you call Commercial Pressure Washing Co. We will handle everything. All you need to do is sit back and relax while we make your building look brand new again. Remember, just dial 714-868-0722 to put our services to work.
Orange Power Washing
For any surface that can withstand the heat of a good power wash, put the team at Commercial Pressure Washing Co. to the task. We know when it's safe to use a commercial power washer, so your property is never put at risk.
For instance, we can actually power wash vinyl or aluminum, so long as the pressure is not set too high. Power washing also works well on concrete walls and sidewalks. It is highly effective at graffiti removal, mildew removal, or other deeply set stains.
We've also power washed brick and–wait for it–even windows. The key is to make sure the pressure is not set too high to cause damage or too low so as not to be effective. That's a part of our training. We know how to do it right.
When you're ready for a power wash, we'll be there.
Pressure Washing In Orange
Not every surface responds well to heat. To give an example, we don't recommend power washing a roof, or any surface that's starting to show its age. Pressure washing works very well for places much better suited to cool water.
These include:
Wooden decks

Stone patios

Brick walkways

Vehicles
You CAN, in theory, power wash these places, though great care must be taken with the machine settings. Pressure washing eliminates the risks while still providing a deep clean. Again, our crew is expert at knowing when and where to use which kind of wash. If you'd like to learn a little more about it yourself, call us today.
Orange Soft Washing Service
If you'd rather go with a soft wash over a pressure wash, we're the team to call. Soft washing does not rely on brute pressure to clean. Rather, it uses powerful detergents that do the work from the inside out. Our soft washing technique is great for:
Siding

Stucco

Brick

Windows
And more!
A soft wash is a bit gentler on surfaces, making it ideal for areas that might be damaged by high pressure. But don't worry–a soft wash is still plenty tough on dirt, grime, and other build-up. You'll be amazed at how clean your property can get.
Give us a call today to learn more about our soft washing services or to schedule a free quote.
Downtown Pressure Washing
Whether you live in Huntington Beach, Costa Mesa, Anaheim, or Irvine, give Commercial Pressure Washing Co. a call whenever you need pressure washing done right.
Downtown areas can be tough to keep clean. Graffiti is always a problem, as are gum and other build-up on sidewalks. And then there's the never-ending battle against dirt and grime. We're talking about foot traffic and vehicle traffic galore.
But when you call Commercial Pressure Washing Co., you can rest assured that your downtown area will stay clean all year round. We have a regular schedule that we can put you on, or we can come out as needed. It's up to you.
We're experts at all kinds of pressure washing, from concrete cleaning to graffiti removal. We know how to handle the special challenges that come with high traffic areas. And we're always up for a good challenge.
So call us today and let us show you what we can do. We guarantee you won't be disappointed.
Storefront Window Cleaning
For whatever product you may have on display, a clean window helps to sell it. That's why it's important to have a good storefront window cleaning service that you can count on.
At Commercial Pressure Washing Co., we understand the importance of clean windows. We also know how to clean them without damaging the glass or the frame. That's important, because those are two of the most delicate parts of a window.
We use a soft wash technique that's gentle on glass but tough on dirt. We'll have your windows sparkling in no time.
And we don't just stop at the windows. We can also pressure wash your sidewalks, storefront, and anything else you need to help bring in customers.
Give us a call today and let us show you what we can do.
Orange Building Washing Company
Commercial Pressure Washing Co. is Orange's premier choice for industrial pressure washing. We have the experience and the expertise to handle any size job, from small warehouses to large factories.
We even clean high-rises! Oh yes. With lifts, cranes, and cables, our team can reach any part of your building, no matter how tall it is.
So what are you waiting for? Give us a call today and let us show you what we can do. We guarantee you won't be disappointed.
No Part Of Orange Missed
No matter where your establishment is located, we cover Orange like a comfy quilt.
We have a team of mobile pressure washing units that can come to you, no matter where you are. So whether you're in Brea or La Habra, Tustin or Santa Ana, we can get to you quickly and get the job done right.
Orange business owners won't be left with dirty buildings on our watch. With modern tools and peerless talent, we have what it takes to help every commercial property owner who calls.
PRESSURE WASHING FAQ
What is power washing?
Power washing is a technique that uses high-pressure water to clean surfaces. It's often used on concrete, stone, metal, and other hard materials.
How does it work?
The high-pressure water blasts away dirt, grime, and other build-up. It can also remove paint, rust, and other tough stains.
Is it safe?
Yes, power washing is safe when done correctly. However, if you're not careful, you can damage surfaces or injure yourself. That's why it's important to hire a professional who knows what they're doing.
What are the benefits?
Power washing can clean surfaces that would be difficult or impossible to clean with manual methods. It's also fast and efficient.
What are the risks?
If you're not careful, you can damage surfaces or injure yourself. At 3200psi you can actually lose body parts. That's why it's important to hire professionals like us who know what they're doing.
How much does it cost?
The cost of power washing depends on the size of the area to be cleaned and the level of dirt and grime. Contact us today for a free quote.
No matter what your pressure washing needs may be, we're here to help. We offer a wide range of services to keep your property looking its best. And we're always happy to answer any questions you may have.
Commercial Pressure Washing Co. is the leading provider of pressure washing services in Orange. We have the experience and expertise to handle any pressure washing job, big or small. We offer a variety of services, including:
Concrete cleaning

Graffiti removal

Gum removal

Dirt and grime removal

Window washing
Call us today to schedule a free quote. We'll be happy to discuss your specific needs and tailor a pressure washing plan that's right for you.
Commercial Pressure Washing Co. covers it all with the most exemplary pressure cleaning service Orange has ever seen. From the smallest sidewalk to the tallest high-rise, we've got you covered.
The first step toward a clean building is to give us a call at 714-868-0722. We can't wait to hear from you!