Laguna Woods Commercial Pressure Washing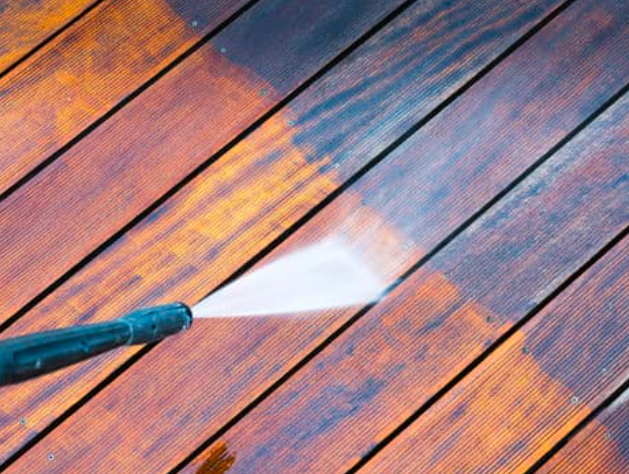 Laguna Woods is basically one big retirement community. And for the good people who have chosen this spot in the autumn of their lives, upkeep is crucial.
For the most thorough in industrial pressure washing, we encourage Laguna Woods community service to call on Commercial Pressure Washing Co. Retaining walls, walk-paths, windows, parking lots, cart-paths, tennis courts, cafeterias, and so much more fall right under our scope for premium service.
Give us a call at 949-996-0053 to get free estimates.
Laguna Woods Tennis Court Power Washing 
Our team goes above and beyond for tennis court power washing in Laguna Woods. We not only wash away all of the dirt, grime, and mold that builds up over time; we also add a layer of protection to help keep it from coming back.
Our team has the experience, skill, and expertise to ensure that your tennis courts remain in perfect shape with our unparalleled service. No matter what size or type of court you may have, we can help restore its original beauty and keep it looking great for years to come.
Sidewalk Washing In Laguna Woods
A clean sidewalk is like a bright smile outside your company door. If you have a business in Laguna Woods and would like to maintain your sidewalk, count on Commercial Pressure Washing Co. We offer top-notch service that is prompt, reliable, and guaranteed to get the job done right.
With our team of experienced pros, we can clean your sidewalk quickly and easily. Whether it's a small area or a large one, we have the equipment and manpower to get it done quickly and efficiently.
Laguna Woods Window Washing
For streak-free, sparkling clean windows, there's no better choice than Commercial Pressure Washing Co. We offer Laguna Woods window washing services that are second to none.
With our professional grade equipment and state-of-the-art techniques, we can quickly and easily get your windows looking their best. We use top quality cleaners that are effective but completely safe for your family and the environment.
Power Washing Or Pressure Washing?
The two are actually different. Power washing uses hot, high pressure water to clean away muck such as grease, oil, old paint, perfectly smooshed bubble gum, and quite frankly, whatever won't come off under a normal pressure wash.
"Normal pressure washing" as stated, uses cool water mixed with detergents. The pressure is still high–about 3200psi–but the water won't burn. The main difference is hot water cleans tough stains that just wouldn't react otherwise.
We also offer soft washing. This is a low-pressure technique wherein the detergent cleans from the bottom up, then is rinsed away. This method doesn't disturb the surface of your siding, which makes it better for sensitive areas like wood, plastic, or vinyl.
If you're ready to make a great first impression, contact Commercial Pressure Washing Co. today for a free estimate on window washing services in Laguna Woods and beyond.
For those in Laguna Woods who need commercial grade power washing and pressure washing services, look no further than Commercial Pressure Washing Co. We are the finest the business has to offer.
Get a free estimate now by calling 949-996-0053.