City of Industry Commercial Pressure Washing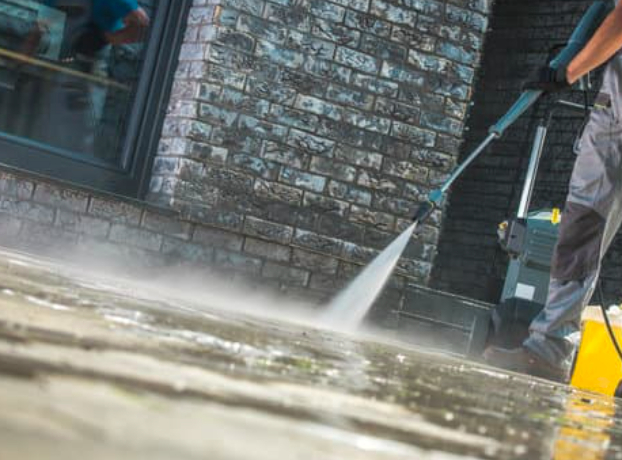 City of Industry contains thousands of businesses that could use the occasional pressure wash. As a matter of fact, that's why we're here.
Commercial Pressure Washing Co. is City of Industry's go-to choice for power washing or pressure washing. We provide top-tier services for an affordable price, and we're always available to answer any questions or concerns you may have.
Don't let the dirt and grime build up on your property- give us a call at 310-997-4756 today.
Exterior Pressure Washing
The name describes what it is. We pressure wash building exteriors using water and detergents ejected at up to 3200psi. You get 8-9 gallons per minute of pure cleaning power. This is also sometimes called power washing (when used with super hot water), but don't worry- we're experts at both.
You might need exterior pressure washing for:
Awnings 

Parking lots and parking garages 

Dumpster pads 

Fences 

Brick and stone patios 
This is a specialized service that involves pressure washing the exterior of your building. This is different from general cleaning because it uses high-pressure streams of water to remove dirt, grime, and other build-up that can accumulate over time.
Warehouse Interior/Exterior Washing
We also clean warehouses from top to bottom. This includes the exterior (walls, windows, loading docks, and parking lot) as well as the interior (floors, ceilings, rafters, beams, and office space).
Power washing is an important part of warehouse maintenance because it helps to remove build-up that can harbor bacteria and other harmful contaminants.
It also helps to improve the overall appearance of your warehouse, which can make a good impression on customers and clients.
Gas Station Pressure Washing
So most people in City of Industry spend their time working. But when they go to gas up their cars, they don't want to see a dirty, grimy gas station.
That's where we come in. We pressure wash gas stations so that they look their best and make a good impression on customers.
We understand the importance of customer service, and we know that first impressions are important. That's why we offer our gas station pressure washing services.
We can pressure wash:
Gas pumps 

Canopies 

Parking lots 

Sidewalks 

Building exteriors 

Dumpster pads 
And more.
If you're looking for a gas station pressure washing service in City of Industry, look no further than Commercial Pressure Washing Co. We're the experts when it comes to pressure washing, and we're always available to answer any questions or concerns you may have.
Give us a call today at 310-997-4756.